Hotel Elegance, Perumbavoor
( A Unit of Perumbavoor Hotels & Resorts Pvt Ltd)
The Hotel Elegance is the epitome of hospitality - elegant and impeccable service accentuated by Cochin's vibrant, eclectic spirit. The ambience and flair of The Elegance has been carefully cultivated through meticulous planning and thoughtful hospitality.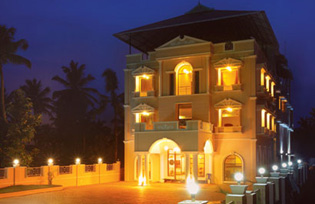 At the Elegance, we always strive to make you feel fresh. We try to make your each visit a new experience as we keep on adding finest elements in services and facilities. We like to think a stay with us tempts each guest to come back again. That's what makes us special! The Elegance is quite unlike any other hotel. We have strived to create a unique ambience of charming grace and traditional aesthetics. Wood and brass accessories have been harmoniously integrated with contemporary Interior styling and decor.
Pleasure is our priority!
At Elegance, we ensure you get true value for money in accommodation and amenities making your stay a very enjoyable experience. . With a wide choice of rooms at your disposal you can choose a room to suit your mood, occasion or budget. Luxury A/C rooms and deluxe non A/C rooms have been made available for your comfort and pleasure. Each room has been tastefully put together to ensure your utmost well being and delight. All this and more because we believe that your pleasure is our priority!
A host of wining and dining options await you at Hotel Elegance! to suit the tourist and business traveler alike. Be it an elaborate continental meal or a sumptuous feast of Indian delights, our chefs take delight in dishing out their best fare
Celebrate the taste
An elegant multi cuisine restaurant ideal for both family gatherings and business groups. Personalised attention, efficient service and menu designed to tempt your taste buds, make our restaurant the ideal destination for great cuisine served to you with style and elegance. Our culinary staff creates an ever-changing assortment of regional cuisine and traditional fare that will be a delectable experience to remember. Enjoy the pleasure of excellent cuisine, quality service and a discrete atmosphere. A pleasant atmosphere of peace and quietness as well as excellent conditions for business meetings, celebrations and relaxation!!
Casual dining at its finest! Coffee Shop is the perfect place to grab a bite in a hurry. A cheerful coffee shop with a quick menu and a great ambience for both the young and old! Take time off-to unwind and relax in the friendly atmosphere, catch up on conversation or restaurant or simply enjoy a delicious snack. Here's a taste of our warmth and hospitality!
Bar- After a hard day's work and toil, relax in the elegant ambience of our air conditioned bar cum lounge.
Blue Heaven Bar An executive bar providing the perfect setting for a soul-baring discussion
Banquets & Conference:
Well equipped halls to confer or celebrate an occasion! Our fully air conditioned conference hall is equipped with state-of the art facilities and a seating capacity of up to 200 people With its brightly lit interiors and comfortable seating arrangements here's the right formula for many a successful conference!
For larger gatherings of up to 1000 people we also have a sprawling lawn.
Along with our tech savvy personnel, well equipped business centre and a vibrant organization, Hotel Elegance offers business hospitality like never before.
Travel Desk :
For all your travel related requirements. Right from managing your Air tickets reconfirmation, pick and drop, Car rentals to Multilingual guides for sight seeing, our 24 hours travel desk goes all the way to manage your travel plans.
Location
15 Kms . from International Airport
20 Kms .from Alwaye Railway Station
35 kms. from Cochin
5 kms.from Perumbavoor town(nearest town)
14kms from Moovattupuzha
Contact us

Hotel Elegance, A Business Hotel,
M.C.Road, Pulluvazhi,
Perumbavoor, Ernakulam - 683 541
Ph: +91 484 – 2527653, 2594653
Fax: +91 484 – 2612005
Email: hotelelegancepbvr@gmail.com
www.thehotelelegance.com