Hotel Elegance, Kottayam
Hallmarks of Elegance
Located at the Pala - Kidangoor bypass the advantage with Hotel Elegance, Kidangoor is of course its location, which is close to several landmarks and attractions of Kidangoor, such as the Ettumanoor temple, St Alphonsa church, Baranganam etc. Elegance provides you with a perfect base for your purposes, be they leisure or business. Amenities are sure to meet your requirements, providing a wealth of history and local tradition skillfully combined with contemporary luxury. Our hotel boasts of interesting architecture, exquisite furnishings and warm, personal service - the hallmarks of Elegance Hotels.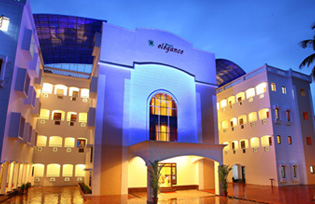 Kick-start your day
There is no better way to start your day than with an elegant breakfast. Plated hot breakfast or continental buffet -get ready for the day ahead with a sumptuous breakfast! Wash it all down with a steaming cup of freshly brewed coffee....
Perfect place for afternoon refreshment
Take afternoon tea or a light bite or snack in the hotel lounge. Sink into a comfy chair and we will bring you lovely sandwiches, delicious cream cakes and a pot of traditional Indian tea.
Your home for the next few nights
Once you have checked in, you will be given directions to your bedroom; your luggage will be personally taken to your bedroom. There is a wide choice of rooms; Premium rooms, Suites, AC and non AC rooms, including special care for the handicapped. Whichever bedroom you have booked, you can be confident that you will have all the little extras to make you feel at home including the private bathroom with some lovely toiletries.
Enjoy the pleasure of excellent cuisine
Personalised attention, efficient service and menu designed to tempt your taste buds, make our restaurant the ideal destination with style and elegance. An assortment of regional cuisine and traditional fare, in an atmosphere of peace and quietness - provides you a delectable experience to savour.
Adding the finishing touches to your stay
And for the tourists among you, we have a concierge who will be happy to recommend the best places for you to see, organise a trip to the temple or church, or book a taxi. To add a touch of surprise for your loved one, we can also arrange a celebration gift of champagne, chocolates and flowers to be in your bedroom when you arrive!
Location
Nearest Town & Bus Stand : Kottayam 15 km
Nearest Airports : Cochin International Airport -90 km
Nearest Railway Station : Kottayam 15 km Saint Chavara Pilgrim Centre, Kottayam - 14 KM
Contact us

Hotel Elegance,
A Business Hotel
High Way Road Kidangoor
Kottayam - 686557
Ph: +91 4822-254698, 257598, 257398
email: mailktm@thehotelelegance.com, mailktm.thehotelelegance@gmail.com