Hotel Meadows International, Chalakudy
Hotel Elegance at Chalakudy also known as Hotel Meadows International is an upscale and luxurious hotel which appeals to the discerning travellers. At Hotel Elegance, Chalakudy we have taken utmost care for the comfort of all segments of our guests, be it leisure or corporate travellers, lady executives, physically challenged people and children or adult group travellers. Warmth and personalized service are our hallmark and we combine the best elements of the incomparable lifestyle with the convenience of today's modern world, through exceptional standards of luxury, elegance and service.
Located at South Chalakudy, on the NH, the Hotel Elegance offers the best in comfort. Our dedicated team of skilled personnel is ever ready to delight you right from the dedicated reception staff, attentive baggage handlers, helpful doormen, courteous housekeepers and servers, all ready to fulfil your every need, 24 hours a day. We strive to cater to all your needs with a touch of personalized attention and care.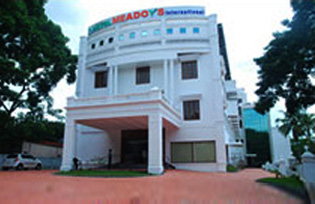 The hotel boasts an extensive range of restaurants, bars, sports and leisure activities as well as conference facilities. Together with world class standards and impressive management tools, Hotel Elegance, Chalakudy is all set to create a powerful presence in the hospitality sector.
Rooms
Hotel Elegance at Chalakudy features 12 Deluxe A/c Rooms, 4 A/c Rooms, 2 Luxury A/c Suites. All rooms beautifully embellished, spacious and individually decorated with excellent facilities. Bathrooms include a well sized separate shower and a double basin marble vanity.
The spacious rooms provide an array of luxurious amenities which include air conditioning, remote-control cable TV with all-news channel, and telephone. Additional amenities include a private bath and shower, bathrobes, a work desk with lamp and a complimentary morning newspaper delivered to your room.
Green Pepper Restaurant
Discover the exotic blend of Chinese, Continental, Italian, Mughal and Kerala cuisines in a traditional ambience. This is an exclusive multi-cuisine specialty restaurant which offers all kinds of culinary delights. Set in rather a lively atmosphere, with service par excellence, we make your meal a complete and memorable experience.
Banquet Hall
Hotel Elegance boasts of an elegant Banquet Hall of 1000 pax. We always ensure that your event is executed with the optimum quality, value and service. Whether a corporate or social event, your needs will always be treated with the utmost respect and sensitivity.
Contact us

Hotel Meadows International,
Chalakudy, Trichur
Ph: +91 480 2710070, 71, 72
Fax: +91 480 2710073
email: info@hotelmeadows.in
chalakudyhotei@gmail.com