Hotel Elegance, Angamaly
The Hotel Elegance is a haven of hospitality - a fusion of casual elegance and impeccable service accentuated by Cochin's vibrant, eclectic spirit. The ambience and flair of The Elegance has been crafted through meticulous attention to detail and thoughtful hospitality.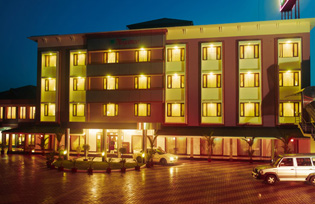 A luxury hotel with an unmitigated agenda of hospitality, Hotel Elegance is surrounded by Kerala's central business district and lies close to the Nedumbassery International Airport, Located on the National highway linking Cochin, Hotel Elegance is the ideal downtown hotel for business and leisure in Cochin . The hotel is just three minutes drive from Angamaly Railway station and 10 minutes drive from the Airport.
At the Elegance, we are always innovating to make you feel fresh. Every visit will be a new experience for you because we keep on adding finest elements in services and facilities. We like to think a stay with us takes each guest beyond their expectations. That's what makes us special! The Elegance is quite unlike any other hotel. We have strived to create a unique ambience of charming grace and traditional aesthetics. Wood and brass accessories have been harmoniously integrated with contemporary Interior styling and decor.
Today Hotel Elegance stands tall balancing substance and style. The Directors - Mr. Binoy Joseph &
Mr. Ajith .C. Nair have left no stones unturned in bringing the standards of hospitality to international levels. Our priority has always been to ensure that you have the perfect place to stay while in Cochin in order to achieve your goals.
At Elegance, we ensure you get true value for money in accommodation and amenities making your stay a very enjoyable experience. With 36 rooms at your disposal you can choose a room to suit your mood, occasion or budget. 6 suites luxury A/C rooms and deluxe non A/C rooms have been made available for your Comfort and pleasure. Each room has been tastefully put together to ensure your utmost well being and delight. All this and more because we believe that your pleasure is our priority!
Contact us

N.H.47, Railway Junction, Karukutty
Angamaly - 683 576
Ph: +91 484 - 2613100, 2613200, 2613300
Fax: +91 484 - 2612005
Email: mail@thehotelelegance.com
www.thehotelelegance.com